I LOVE Black and White cookie, probably because they are more cake-y than cookie-like. But mini ones are even better! Cute and bite-sized.
ingredients:
6 Tablespoons butter
3/4 cup sugar
2 eggs
1/2 teaspoon vanilla
1/2 cup buttermilk
1 cup all purpose flour
3/4 cups cake flour
1/2 teaspoon baking powder
pinch of salt
glaze:
2 cups confectioner's sugar
3 Tablespoons boiling water
1 Tablespoon lemon juice
1 Tablespoon corn syrup
1 Tablespoon cocoa powder
Preheat the oven to 350 degrees, line baking sheets with silpats.
In the bowl of an electric mixer, beat the butter and sugar until combined. Add the eggs one at a time, then the vanilla.
In a medium bowl whisk together the flour, cake flour, baking powder and salt. Alternate the flour mixture with the buttermilk until blended.
You might want to chill the dough for a few minutes in the fridge, just to get it to firm up a bit. Now here's the trick, instead of making them GIANT, use a 1/2 ounce ice cream scoop and put the dollops on the sheet, approx 2″ apart.
Bake for 8-10 minutes. When they finish baking they'll puff up like little rounded cakes. Let cool on a wire rack.
Pay attention here, this is where people make mistakes – you need to FLIP THE COOKIES OVER, and frost the flat side, the puffed side will now be the bottom.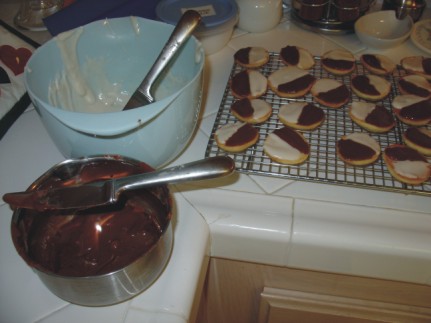 In a small bowl mix together the confectioner's sugar, boiling water, lemon juice and corn syrup. If you need to add more water to get it to the right consistency, do it in small teaspoonfuls. Separate the glaze into two bowls. In one bowl add cocoa powder to make the chocolate. Then frost one side "white" and the other "black."
I just LOVE how tiny these are. The perfect size to get both flavors at once! I even made these 'brown and pink" for a themed wedding shower! They turned out very cute!