You know how I LOVE Disney – well these Minnie Mouse cupcake toppers are perfect for a Disney fan's birthday!
ingredients:
fondant
black gel dye
red gel dye
white frosting
Start by dyeing the fondant black. I always use gel dye and might I suggest investing in some disposable gloves, as the black is UNFORGIVING on your skin. Dyeing fondant black is hard, you don't want gray tones – so you have to just keep working with it. If it's not dark enough, let it dry a bit, then add some more color. Just keep working it in.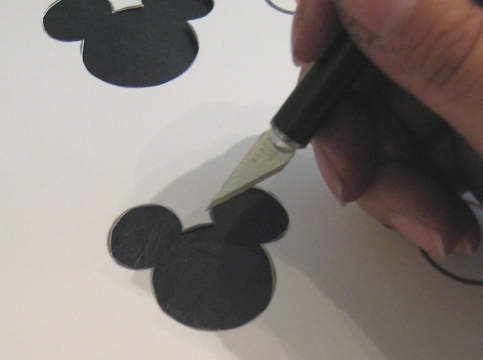 Once you've got the black you want – get a template ready. I just printed out some random 'Mickey head' images and sized it to the scale I wanted (these were mini cupcakes, so they were only about 1.75″ in diameter). Roll our your fondant on a flat surface, lay the template over and cut out the image. Set aside to dry.
Now the bows – if you know Minnie she has a GIANT floppy bow on her head. I've seen people do 'Minnie' cupcakes and they have this itty bitty bow on a big ol' head. Nope. This Disney fanatic is here to tell you to stay true to the characters, do your research, Minnie wears a giant floppy bow, and traditionally it's red with polka dots.
To make the bows – dye fondant red, then sculpting it with just your hands, make two little triangles with rounded edges. Put them together, almost like a butterfly, then add a little round 'knot' in the middle.
Lay the bows on the black Mickey heads and suddenly…they are Minnie!
Now just pipe on some white dots on the bows and she's ready to go!
Place the heads on top of the frosted cupcakes – I used chocolate-y cupcakes (recipe, here) in red and yellow wrappers. VERY Mickey and Minnie.