I was asked to make cupcakes, "any type I wanted" as long as they were pink. Well, you don't have to tell me twice. Pink brings to mind one thing to me and that's ponies, specifically Pinkie Pie!
I made Twilight Sparkle cookies before and I figured Pinkie Pie in cookie form as a cupcake topper was the way to go.
ingredients:
1-1/2 cups all-purpose flour
1/4 teaspoon baking powder
pinch of salt
1/2 cup (1 sticks) unsalted butter
1/2 cup sugar
1-1/2 Tablespoons egg**
1/2 teaspoon vanilla
deep pink food gel dye
black icing
blue sparkle gel
white icing
pink cupcakes, frosted
The first step is to buy the Pinkie Pie cookie cutter from WarpZone on Etsy.
In a bowl whisk together the flour, baking powder and salt. Set aside.
In the bowl of an electric mixer cream the butter and sugar.
**This dough normally calls for one egg, but since this is a HALF recipe, to measure half an egg, beat one egg with a fork then measure out 1-1/2 Tablespoons.
Add the egg and vanilla to the butter mixture.
Add a few drop of pink food gel dye and stir.
Slowly add the flour mixture until combined. The flour will lighten the color so add more food gel dye if necessary.
Mix on medium high until the dough pulls away from the bowl.
Wrap the dough in plastic wrap and chill in the fridge.
When you are ready to bake, preheat the oven to 350 degrees and prep baking sheets with silpats.
This cutter is a bit tricky so make sure it's well floured before each press.
Roll out the dough to 3/8″ thick. You want to see all the impressions. Use a knife and cut around the mane and neck so that you are left with just Pinkie Pie's head.
Move the cookies to the prepped baking sheets and bake for 10 minutes. Let cool on a wire rack.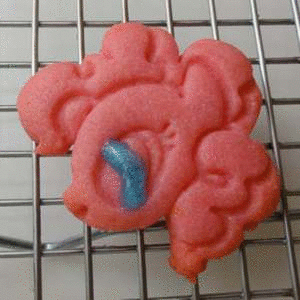 To detail the cookies with icing, start with the blue of Pinkie Pie's eye first, followed by the black pupil using a #2 tip.
Then add the white of the eye with a #3 piping tip. For the final detail go back in with the black icing and a #2 tip to add the eyelashes.
Place the finished cookies on top of frosted cupcakes and you have treats ready to go for everypony!