Root Beer Kalbi
My love of root beer runs deep and I'm always looking for ways to incorporate it into new recipes. Quite obviously this is far from the traditional Korean kalbi recipe, but you'll find the sweetness adds a unique taste to savory dishes.
The kids LOVED THIS and they asked for thirds and even fourth servings! I call this recipe a success!
ingredients:
3 lbs short ribs
1/2 C soy sauce
1/2 C sugar
1 Tbsp oil
1/2 tsp pepper
1 cloves garlic, minced.
1-1/2 cups Root Beer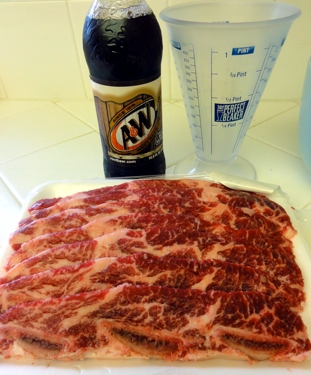 Mix together the soy sauce, sugar, oil, pepper and garlic. Stirring slowly, add in the root beer. It will foam up rather quickly so I suggest using a large bowl.
In a ziploc bag or sealable container, place the ribs and pour the marinade on top. Marinate for 4-6 hours.
When you are ready, throw out the marinade and cook the ribs on a hot grill until done. Grilling the ribs really brings out a nice caramelization of the root beer. Just the tastiest ribs ever!