Peeking Easter Bunny Cookie+Cupcakes
I wanted to do something different for Easter Cupcakes so I started sketching some ideas. One that stuck was using cookies along with the cupcakes. (I guess it's still on my mind since I just did that with Praline Cupcakes.
I thought it'd be cute to have little cutout bunnies peeking out of 'grass' in a flower pot. (yet another one of my cupcake ideas revisited…)
They turned out just as I had hoped and as always the cookie + cupcake combo was deeelicious!
ingredients:
cupcakes (I used fresh strawberry cupcakes: recipe, here)
buttercream
green gel dye
bunny cut out cookies
Use any sugar cookie recipe and cut out bunny shapes, bake cookies and let cool.
While the cookies are cooling I made a simple mixture of powdered sugar and water, with a touch of gel dye.
Using a clean paintbrush (I have a set just for baking) I painted the ears and the face.
For the eyes I used the same technique with the paintbrush just using cocoa powder, powdered sugar and water. Set aside the bunny faces to dry.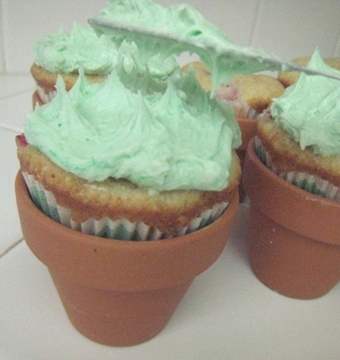 Bake your cupcakes and while they are cooling tint your buttercream green. I didn't want fancy piping, I just wanted it to look like crazy grass, so I frosted them then tapped at the top with a spatula until the frosting became spiky.
I added more green to the leftover frosting and added touches here and there = that gave contrasting grass colors.
Place the frosted cupcakes in the ceramic pots. You can get these at your local craft store for under a dollar. These 2″ pots are the perfect size.
Instead of just jamming the cookie in the cupcake, I cut a small slit so the cookie will be stable. Not too deep, just enough so the cookies sit nicely.
Carefully place the cookies, being careful not to break the ears off!
I added a few sugar flowers and wafer leaves which make the flower pots even cuter. Once the cookies are in you are ready to serve!
These would make cute little place settings for a lovely easter brunch!